AKHIL TO DEBUT IN PUNJABI CINEMA WITH THIS UPCOMING FILM: TERI MERI GAL BAN GAYI
Many Punjabi singers have already turned actors and have been seen on silver screens with more sparks in their eyes. Now, this is the for "Khaab" fame guy, Akhil to make his debut as an actor in Industry with He will be seen opposite Rubina Bajwa in upcoming Punjabi film "Teri Meri Gal Ban Gayi" which will be directed by Priti Sapru.
Priti Sapru is Punjabi cinema's one of the finest actress and she started her career just at the age of 13 years.
She was heart beat of Punjabi films when she was on screen of films like Mehandi Shagna Di and Pratigya. Now after almost 15 long years, Priti is making a comeback of Punjabi cinema, which has been drastically in a new look.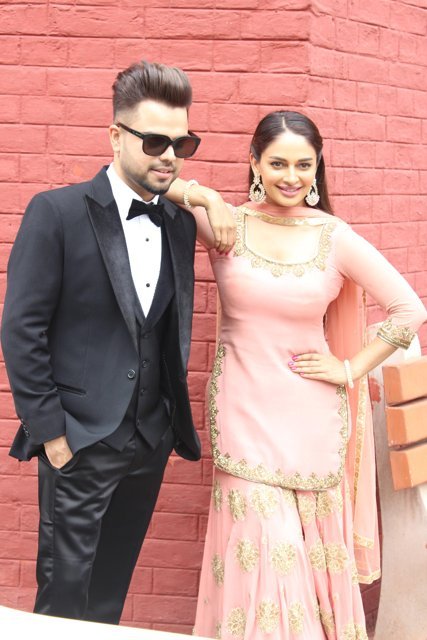 The interesting part will be in keeping an eye on this project that in what way this actress cum director will be shaping Punjabi cinema. She said in an interview during the official announcement of film that cinema has always been part of her life and now she has all new energy and excitement for this upcoming project.
While on the other hand Akhil was excited too about the same and said that this is like a dream come true for him. That he is making his debut in industry with such great personalities standing by him. Akhil thanked the whole team for believing in him and for proving him such a platform.
Rubina Bajwa told some more about this film that Teri Meri Gal Ban Gayi will be a drama cum romantic film and romantic roles always excite her because she feels that this is the perfect zone for her.
The music of this film will be handled by most talented personality of Punjabi Music Industry, Jatinder Shah. Lyrics of songs are penned by Babbu Maan and Maninder Kaily.
The film stars Rubina Bajwa and Akhil on leads while other star cast includes, Alka Kaushal, Tej Sapru, Harby Sangha, Karamjit Anmol, Guggu Gill, Malkit Rauni, Gurpreet Bhangu, Priti Sapru, Meet Kaur and Puneet Isser.
Teri Meri Gal Ban Gayi Release Date:
Release date of this film is said to be in next year i.e. 2020. Teri Meri Gal Ban Gayi is produced by Arun Kumar and Upvan Sudarshan.
Hopefully, people will love Akhil's acting skills as well along with his songs. Let's see what happens with this new Punjabi film which is having everything just perfect with it, in terms of star cast, music, lyrics, story, direction and new faces after all.