KAAKE DA VIYAH MOVIE FULL STAR CAST & CREW, WIKI, STORY, RELEASE DATE, SONGS, JORDAN SANDHU, PRABHJOT GREWAL
KAAKE DA VIYAH MOVIE 2019 JORDAN SANDHU AND PRABHJOT GREWAL
Kaake Da Viyah is the name of upcoming Punjabi movie which is directed by Rai Yuvraj Bains and starring Jordan Grewal and Prabhjot Grewal in lead roles. The film is said to be comedy movie.
Jordan Sandhu is a Punjabi singer and git fame from his song "Much Phut Gabhru" which was released under Bunty Bains Production. He belongs from Amritsar. He is well known for his songs like Handsome Jatta, Teeje Week, Birthday and many more. Kaake Da Viyah is his debut movie as a lead actor.
Prabhjot Grewal is a model and actress known for her work in various Punjabi songs as a model. She has appeared in songs like Maye Ni Maye by Harjit Harman, Family by Kamal Khaira, Lagna Ni Ji by Ravinder Grewal and many more. Now she well be seen as a lead actress in upcoming Punjabi film Kaake Da Viyah along with Jordan Sandhu.
KAAKE DA VIYAH POSTER
Poster of Kaake Da Viyah Punjabi movie is released and it does not contains much but only star cast and other details.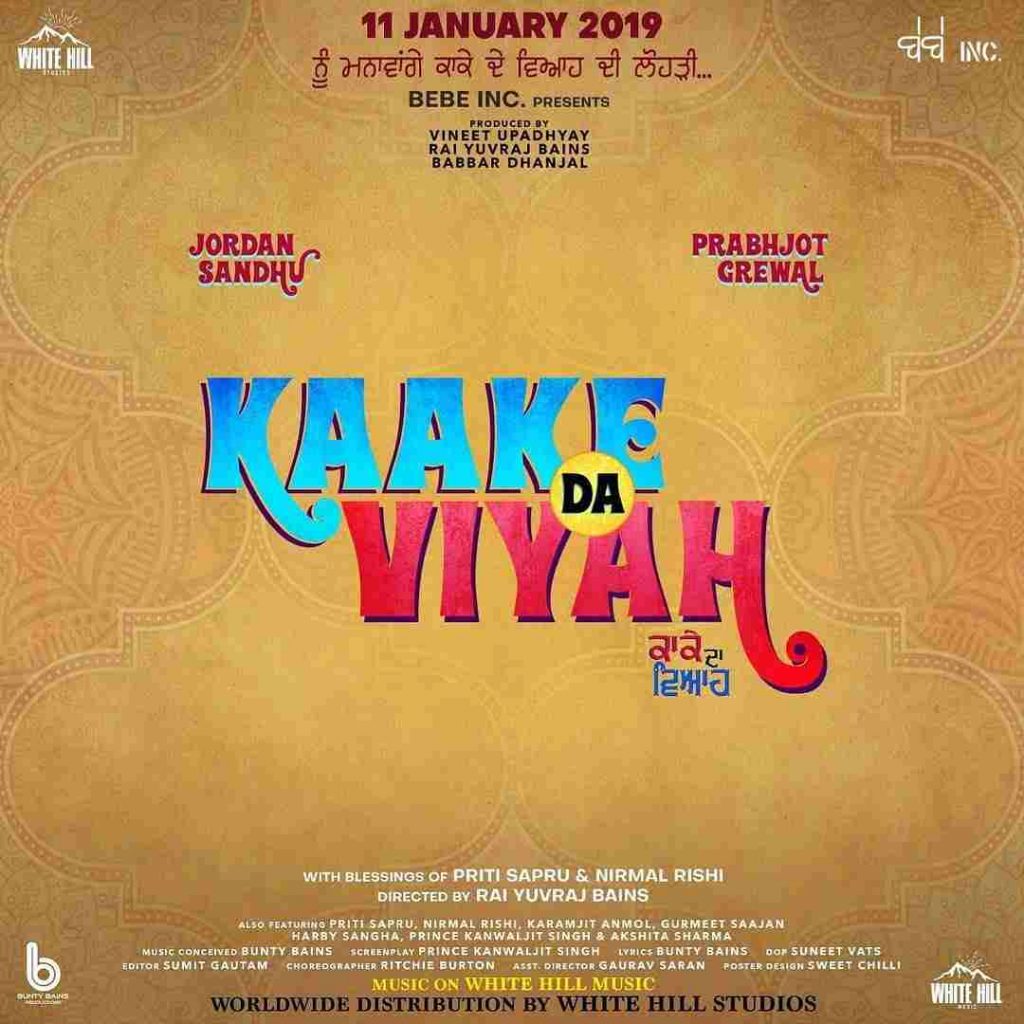 KAAKE DA VIYAH RELEASE DATE
The release date of Kaake Da Viyah Punjabi movie is 11 January 2019. And the film targets the famous, festival of Punjab, Lohri.
KAAKE DA VIYAH MOVIE FULL STAR CAST AND CREW
Produced by: VineetUpadhyay, RaiYuvrajBains and BabbarDhanjal
Directed by: Rai Yuvraj Bains
Star Cast: PritiSapru, Nirmal Rishi, Jordan Sandhu, Prabhjot Grewal, KaramjitAnmol, GurmeetSaajan, HarbySangha, Prince Kanwaljit Singh and Akshita Sharma
Lyrics and Music:Bunty Bains
Screen Play: Prince Kanwaljit
Assistant Director: Gaurav Saran
Poster Design:  Sweet Chilly
Music On: White Hill Music
KAAKE DA VIYAH TRAILER
Trailer of Punjabi movie Kaake Da Viyah will be out soon.
KAAKE DA VIYAH SONGS
Songs of the film will be out soon.