MUNDA HI CHAHIDA: HARISH VERMA IS ALL SET TO SHOW SOMETHING DIFFERENT
After a long time, the Punjabi film industry is now running good actors in films and one of them is Harish Verma. This time he will be starring with Rubina Bajwa (Neeru Bajwa's Sister) and along with her we will see Neeru Bajwa as well.
The film is named as Munda Hi Chahida which is directed by Santosh Subhash Thite and Deepak Thaper and Produced by Neeru Bajwa, Ankit Vijan, Navdeep Narula, Santosh Subhash Thite and Gurjit Singh.
Munda Hi Chahida will be releasing under the banner of Neeru Bajwa Entertainment and Shri Narotam Ji Films. Story and Screenplay is written by the leading director of film Santosh Subhash Thite.
This time we will see Bajwa Sisters together on screen and that too with Harish Verma, who has been loved by the audience since the release of Golak Bugani Bank te Batua.
We will also have number of good songs in the film which are penned by Harmanjit, Kaptaan and Harinder Kour. Dialogues and addition screenplay is penned by Deep Jagdeep Jaedi. Music is done by Gurmoh, Gurcharan Singh and Gurmeet Singh. Music Label is of Jass Records.
Poster of Munda Hi Chahida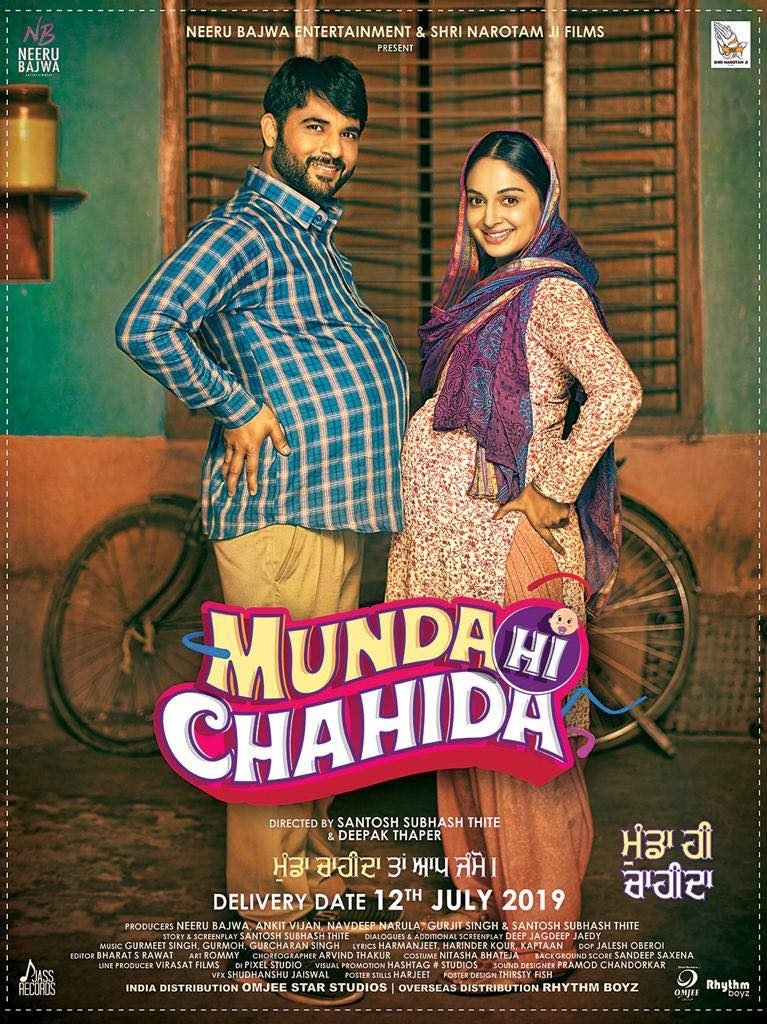 This is from one of the most attracting posters of Punjabi films. The poster is designed by Thirsty Fish and poster stall by Harjeet.
The poster shows Harish Verma and Rubina Bajwa standing opposite to each other and both have their tummies hanging out, seems that both are pregnant and they look happy together.
Poster is funny and decent in a way while it shows that the concept of film will be very interesting. People are already loving this poster and everyone including us is waiting for the trailer of Munda Hi Chahida.
Release date of Punjabi film Munda Hi Chahida
The release date of Munda hi Chahida is announced and will be hitting silver screen on 12th July 2019.
Although on poster the release date is mentioned as "Delivery date". Which shows that the concept will be more than what the poster shows and we are already looking forward for more and more from this film.
India Distribution is handled by Omjee Group and overseas distribution will be managed by Rhythm Boyz Entertainment.