SARGUN MEHTA AND GURNAM BHULLAR IN ALL NEW AVTAR LIKE NEVER BEFORE IN SURKHI BINDI
Gurnam Bhullar is no doubt an amazing singer and his songs have cheered up the audience always. Now having him on big screens will be another excitement for his fans and that too with Punjabi Industry's charm, Sargun Mehta.
There are many examples of films which include Sargun Mehta and have done a class business at box office. Now the hold is in Gurnam Bhullar's hand too. The latest poster of their upcoming Punjabi film, Surkhi Bindi has been released.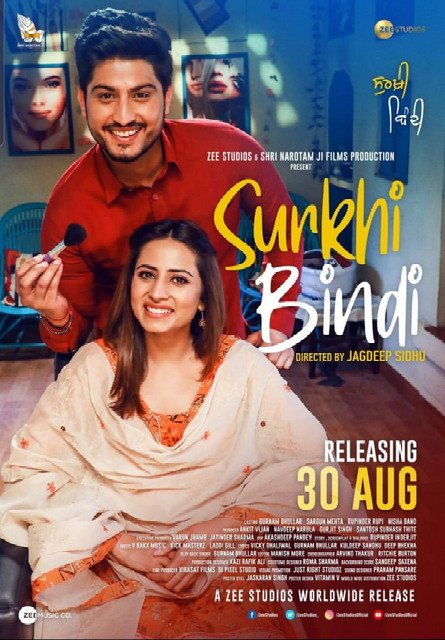 This film is releasing under the banner of Zee Studio and Shri Narotam Ji Films Production. Surkhi Bindi is directed by Jagdeep Sidhu, best known for amazing films like qismat, Nikka Zaildar, latest hit of Diljit Dosanjh Shadda and many more. Now this will be very interesting to see that how he has taken work from Gurnam Bhullar in this film.
Jagdeep Sidhu while releasing the press note told that this film is not a natural love story in which a boy meets a girl but there is a twist that a wife meets husband. Where most of the love stories end, this starts from there and hence we can expect a great storyline as well.
The poster of Surkhi Bindi shows Gurnam Bhullae standing and holding the make-up brush in his hand while Sargun Mehta is sitting on a chair in front of him. Gurnam Bhullar looks amazing in Red Kurta-pyjama while Sargun Mehta is also looking simple and amazing at the same time in traditional Punjabi suit.
Surkhi Bindi will be on screens on 30th August 2019.
Along with these two lead characters, we will also have Rupinder Rupi and Nisha Bano on silver screen. The film is produced by Ankit Vijan, Navdeep Narula, Gurjit Singh, Santosh Shubhash Thite. While executive producer of the film are Varun Jhamb and Jatinder Sharma.
Music will be going to be one of the strongest and highly appreciable part of this film because Gurnam Bhullar knows well about his audience and will leave magic of his voice here too.
The music of this film is done by V RAKX Music, Kick Masterz and Laddi Gill. Story and screenplay is penned by Rupinder Inderjit. The first look poster of the film is amazing and we are really looking forward to amazing chemistry of the two.
Especially for Gurnam Bhullar fans, this is a big news that now the will watch him on big screens. Hopefully, the singer will do good job in part of acting as well and with more crispy charm that he has already left on many hearts with his songs and looks.
After the success of Punjabi film Kala Shah Kala which was lead by Binnu Dhillon, Zee Studio people are very excited about this one with bunch of talented people on board.